SEEDS 034. Outdoor work on South Shore
29.05.2017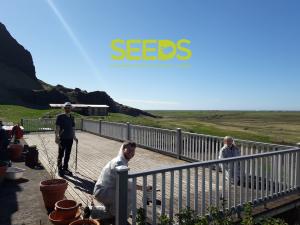 The camp was located in picturesque farm called Hvammur, located just a few kilometres from the well-known Selfoss. 7 participants, coming from USA, France, Mexico, Germany, Canada and Ireland, helped cleaning surroundings and planting 5000 trees on the steep slope just behind the house. Existing u-shaped tiny forest will be in few years several times bigger. They did maintenance works on the house and by that acquired new skills.
During the free time, they explored the region by visiting Vík, hidden places, where famous series Game of Thrones was filmed, as well as beautiful Westman Islands, Skógafoss and nearby museum of Icelandic history, Selfoss, glacier and the oldest swimming pool in the Iceland.
They enjoyed working together and observing the results of their work, as well as learning about Icelandic culture, history and geography through the host's stories. After two weeks of outdoor work, the camp came to an end. But it was not goodbye, just see you later, because they promised the host to come back in few years to admire the forest they planted during the camp.
Find your workcamp
Icelandic Experience
SEEDS main supporters