SEEDS 029. Outdoors work in the far East
18.05.2017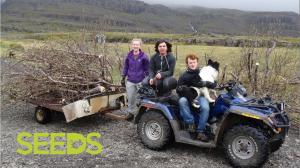 This camp was located in the Far East of Iceland, in a farm named Bragdavellir, close to the little town of Djupivogur. This farm hosts sheeps, horses, rabbits, ducks and chickens.
The main part of our work was about cleaning the area: taking down old fences and thrash in the surroundings of the farm and on the beach. We also helped with cutting trees so that they can grow better.
We were a group of 4 volunteers from different parts of western Europe (England, Germany, Scotland, France). Another volunteer (not with SEEDS) was working at the farm, helping with the summerhouses and taking care of horses. This nice group was a good occasion to discover each other's culture and have a lot of fun! We had the opportunity to enjoy the midnight daylight in a hot tub close to the farm.
The family was very nice and friendly. They invited us for a great Icelandic dinner!
Participants left Iceland, happy of their Icelandic farming experience :D
S.T. & N.G.
Find your workcamp
Icelandic Experience
SEEDS main supporters