SEEDS 017. Environmentally Aware
30.04.2017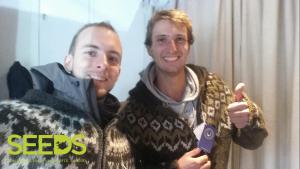 This was a camp in the city of Reykjavik. It consisted of raising awareness of environmental and sustainable issues in Iceland, and participating in volunteer actions. Unfortunately, the weather kept us from doing the planned voluntary work as planned.
We attended lectures, talks, and visits in and around the city about different subjects : recycling in Iceland, geothermal energy, tourism, the Environment, whaling and the role of whales in the ecosystem.
We were a little group of participants coming from different countries (Scotland, France, Netherlands and Portugal) and living with each other was the opportunity to discover other cultures and have a lot fun in a nice environment.
Participants also had time to discover the awesome surroundings of Iceland : Golden Circle and the South shore during their free time.
The camp was a success and every participants were happy of their Icelandic experience :D
Naomi Gibson & Simon Teutsch
Find your workcamp
Icelandic Experience
SEEDS main supporters