SEEDS volunteers in Stockfish Film Festival
02.03.2016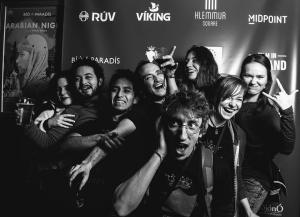 Eleven days, 49 movies screened in the theatre. Fictions, documentaries, short films, experimental … Everything you can imagine and more.
For the second Stockfish Film Festival, held in Reykjavík on 18-28 February, SEEDS volunteers were given the chance to volunteer at the festival as well as to attend to the screenings of many astonishing films. Some would even be presented and rewarded at the Oscar's ceremony (Saul Fia).
SEEDS volunteers helped with the organization of the festival by helping at the information desk, making sure everything was tidy and clean, welcoming people at the doors, driving guest through the city – basically anything to make sure the festival ran smoothly.
The volunteers were very happy with the project and will late forget the smell of popcorn in the air and the marvelously good taste of music of the cinema staff of Bio Paradis. They were happy to have had the opportunity to partake in a new cultural event that is growing fast.
The Stockfish Festival team was also very happy with the team of SEEDS volunteers, and they said that even some of the VIP guest had mentioned how extremely helpful and friendly our team of volunteers were.
Find your workcamp
Icelandic Experience
SEEDS main supporters