SEEDS 069. Mýrdalshreppur - South shore
23.07.2014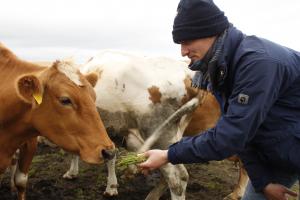 We were in one of the most beautiful, isolated places you can find in the south of Iceland.
In front of us we had the ocean with big, high waves and in the background one of the biggest glaciers in Iceland...
There we learnt how a normal day for farmers in Iceland is mostly very hard but at the same time very enjoyable. Waking up early, milking cows, giving them food and managing the carrots in the huge, endless field.
But in their life there is not only work and more work but much more, all together we discovered the simple and satisfying country-life and finally we enjoyed some products from our work: milk and carrots. To sum up the description of this experience; beautiful landscape, amazing hosts, fresh air and marvelous volunteers.
I want to say thanks to Hazel, Valentina and Ondrej, without you guys the workcamp would not have been the same
Luca LURAGHI, SEEDS Workcamp Leader.
Find your workcamp
Icelandic Experience
SEEDS main supporters