SEEDS 035. Eyrarbakki in the South Coast (1.2)
18.06.2014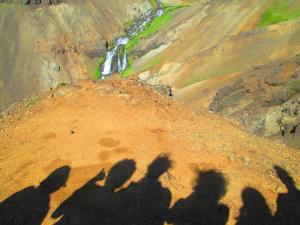 Seeds van on the oldest road of Iceland. Small colourful houses – each of them has a story inside, which local people are openly sharing. Ocean view from our sleeping-room window. Two steps and you are inside the ocean. Every day 24/7 amazing skyline and views. Small community, where everyone knows everyone and takes care of each other. At first this place seems too small to find enough activities for two weeks. But reality is very far from that...
Locals asked our host Geiri: Who are those new people? How did you get them to come and work for you? How much do you pay for them? And he answered: if you give, then people give back. Small things, maybe not even things. Not everything is focussed on the money.
During these days we were part of the local community – painting different houses and fences, taking care of the museum's garden, taking care of wooden roads by the ocean, giving information to the visitors about local attractions and sights to see. We didn't work only for our host, we also helped people in their gardens around the area. It is a real community, where people take care of each other; people are very friendly and open to share their homes and free time with us.
During our free time our host was more than generous – we had the possibility to kayak in the Atlantic Ocean, take part in yoga sessions with local people, enjoy ice-cream and Geiri's wife's art at his home. We also went many times to different swimmipools, did the Golden Circle tour with extra points on the road. We saw the famous volcano Eyjafjallajökull, different waterfalls, the glacier Solheimajökull and the black sand beach near Vik. Now we know all the south-east part by heart, thanks to travelling around so often. We also watched movies about Iceland and had very many dinners all together.
"There are so many things, which we can not explain, but only experience" – words from our host, Geiri. This workcamp was magical because of the people and of course the place itself. We will never forget this experience and the people there. If you are interested to collect memories from this amazing workcamp, join with the group for the camp, which starts 1st of August, 2014.
Find your workcamp
Icelandic Experience
SEEDS main supporters