SEEDS 032. Spring in Eyjafjörður - The longest fjord
11.06.2014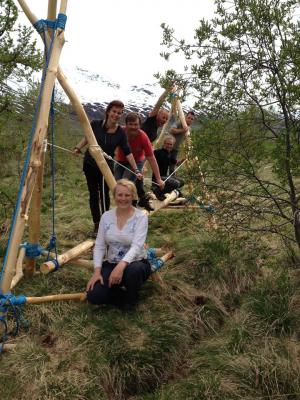 'Working in the land of never melting snow'
The workcamp was located in a valley surrounded by unbelievable, fantastic, magnificent mountains which call you to visit them and become a part of them just for a moment. As one of the volunteers wisely put it: "here you are not at the landscape, you are part of the landscape".
Not far from the ocean, there are many possibilities to go to the coast. Of course you might see whales if you carefully explore the ocean.Our work had two main goals. First, we had to repair and upgrade the closed footpath which is going to be used by the hostel´s guests. The best part of that work was creating a swing bridge. When we finished that, we had a lot of fun with that bridge. It was a real challenge to go past over this bridge. We become children many times there.
Also, we were restoring the small natural pool which is located in the mountains. We made this for 4 days. It was quite hard work to carry a lot of heavy stones but the result made us absolutely satisfied. We trasformed the place greatly. It is a pleasure to refresh your tired feet in that pool.
Our last mission was to build an outdoor cooking place from the stones, the process was so fun! When we were collecting the stones from the beach we suddenly saw whales in the ocean - magic! You never know when or where they will appear.
Lastly, I need to mention that the impressions from that landscape are very, very strong. It isn´t difficult to became part of nature for a few moments. It is an unforgettable adventure.
Marton ARVAY & Tomas HUB, SEEDS Workcamp Leaders
Find your workcamp
Icelandic Experience
SEEDS main supporters