SEEDS 056. Revegetation in the South of Iceland
15.07.2013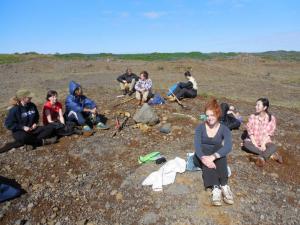 Could you ever imagine working with very organic fertilizers and having philosophical talks? That's what we did during this project. 10 young volunteers form far--ar away (and one camp leader) came to Iceland to fight soil erosion and plant some new trees. Our wonderful hosts explained us why our work is so important. We had educational sessions, philosophical and poetic sessions, some singing and dancing sessions and traveled a lot.
Now we know that new life will hopefully occur in the deserted areas and we all hope that all 50 trees we planted will grow strong and big. We'll see in a couple of years (we have GPS-coordinates of our trees, I think everybody would love to come back and check the progress).
It was a big pleasure doing this work with these wonderful people.
Kateryna Izotova
SEEDS Workcamp Leader
Find your workcamp
Icelandic Experience
SEEDS main supporters