SEEDS 011. Environmentally aware: in Reykjavík
16.04.2013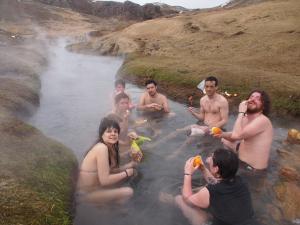 Have you ever wondered what it's like to live environmentally friendly? Or what environmentally friendly actually means? Well, some lucky people got a chance to find out during the "Environmentally aware" workcamp. Lovely team of Eva, Laura and Emily got not only a dose of knowledge about the world around us and the state of the environment as it is at the moment, but also a chance to try out all those "green solutions" that we all keep hearing about.
From appreciating the vegan chocolate cake to scrubbing your face with home made coffee/honey mask. So with our bellies full of chocolate cosiness and skin as soft as babies bum we started our journey of exploring the environment and people around us. We met the man behind the "Meet us, don't eat us" campaign and learned about the issue so close to Icelandic heart as protection of the whales. Another wonderful example that one person truly CAN change the world was meeting Gunna – the master brain behind the Nature.is.
Did I already mention that we also got to try how Icelandic bananas taste like? Oh yeah. That happened. I probably shouldn't even mention that we got a chance to soak in a hot river with a view over the mountains while discussing the issue of increasing tourism effects on the Icelandic nature. And if you wish you were here with us now, just wait until you hear that we got to spend the second part of the camp in the countryside bliss. So secluded and so close to the nature itself that your heart fills with the spring sunshine even on cloudy days (not that we had any – the weather was absolutely perfect). We embraced the country life: gardening, making compost and our own soap and jam was only the beginning. During our breaks we got to sip herbal tea while sitting on the terrace under the warm spring sun. To keep you intrigued I will not describe all that we did. That shall remain for you, dear reader, to find out when you will join our next Environmental workcamp!
But what I will miss the most is the laughter. And oh boy did we laugh. There was not a moment when our house would not be filled with laughter (I think it's a safe bet to continue our careers as comedians if what). Now this laughter will forever be in my heart and memories.
Many organic hugs,
Kristine Bogomazova
SEEDS Environmental Messenger
Find your workcamp
Icelandic Experience
SEEDS main supporters