SEEDS 007. Photo Marathon in Reykjavík - Laugardalur
10.03.2013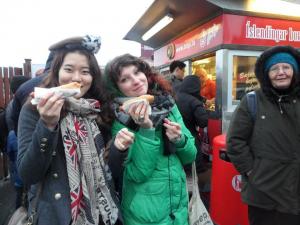 Developing a project based on a theme such as racism is a challenge. It needs commitment, involvment and concentration. Aaron, Elena, Lydia, Niyala, Raz, Seoung, Sunny, Tzahi and Yael did their best to capture the sides of the topic that mostly inspired them and put them into pictures: some got their inspiration from the nature, some used the Declaration of Human Rights and some others the slogan of the European action week against racism. Their photos would then be exposed on the 21st of March as a part of the European action week against racism.
The 21st of March is a day that reminds us how to value diversity. We, in our own small way, have tried to do the same. Israel, Slovenia, Russia, Germany and South Korea can definitely be described with the word "diverse". Diverse, but not incompatible. Coming from these countries, our eight volunteers proved it by participating to an International work camp: despite having very few things in common, taking pictures became almost like a pretext to get closer together, to develop a project while learning from each other.
While working on the slogan "Who Says We Don't Fit Together?", they realized that they were part of it themselves. Showing interest, understanding and respect towards the different culture of the people they were living with. Breaking the borders that divided them and making friends; cooperating and having fun, discovering their potential in a completely unknown environment.
Who would have said that? Who says they don't fit together?
Lara Cappelli
SEEDS Workcamp leader
Find your workcamp
Icelandic Experience
SEEDS main supporters