News from our SEEDS LTV's from their excursion to the south of Iceland
15.01.2013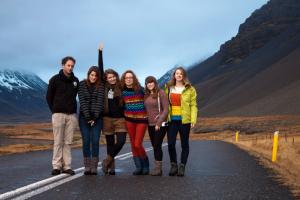 "There is always proper time and mood to travel in Iceland!" – that's what we long term volunteers decided after Christmas and New year's celebrations. Weather here is really unpredictable but it's staying like this during the whole year, so there is no problem to experience Iceland in winter if you have driver (desirable – good singer and friendly guy) with driving license, good car, funny company and fresh food!
Two days trip through the southern part of Iceland didn't let us forget that we are experiencing time of our lives in this wonderful luminous land! And really, nature is powerful here – despite a lost glove in the waterfall, we were so excited about Gullfoss and Skogafoss beauty thatwe didn't even feel our wet coats anymore.
Undoubtedly, Hekla was the place where we stuck around for a while, as for most of us it was first time when we saw volcano. At the end of the holidays we feel rested so now we are prepared to be as powerful as geyser to do nice things for Iceland!
Thank You travelling team: Florian, Madara, Lara, Natacha and Fanett!!
Justina Lizikeviciute
SEEDS Workcamp Leader
Find your workcamp
Icelandic Experience
SEEDS main supporters