SEEDS 003. Mýrdalshreppur - South Shore.
14.02.2013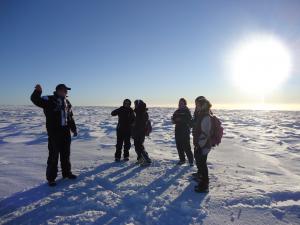 Wednesday on the 30th of January, four volunteers; Yu-Ju from Korea, Domi from Germany, Cécile and Cécila from France, started together a new workcamp, located in the South Shore. The host and his family welcomed us in a lovely farm where they cultivate carrots, have cows and sheeps. The main tasks were cleaning and wrapping carrots and we had the opportunity to work with the cows and to take care of the garden.
We made many excursions, to the Volcano Museum, hotspots, glaciers, waterfalls, horse farm and beaches …
The last weekend, we did a huge international dinner with our host where we got the opportunity to try Icelandic food and some specialties from the volunteers.
Moreover, we visited the Golden Circle before heading back to in Reykjavik.
Natacha Muzaffar
SEEDS Workcamp Leader
Find your workcamp
Icelandic Experience
SEEDS main supporters