SEEDS 104. Mýrdalshreppur - South shore!
31.10.2012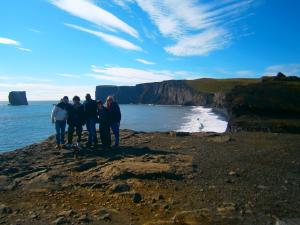 We were 5 persons from different continents and countries who became "carrot people" for 2 weeks.
We came from Latvia, Germany, Nigeria and Japan. Nobody of us had ever thought about "the carrot life-cycle", so there, in the south of Iceland, surrounded by ocean and 2 glittering glaciers, couple of km from Vik, we discovered a lot. Work in the farm is never easy, it's often pretty physical and exhausting; during the resting hours somebody was dreaming about potatoes or carrots, somebody - about the boxes we made. Despite of that, we were lucky to have supernice hosts, with who we made dinne--party together, trying a bit of different cuisine, including the Icelandic beer and sheep head!
Besides, the hosts offered a car for us, so we manage to make some nearby and farther trips - like the glacier lagoon, natural hot spring swimming pool, Reynisdrangar, Vestmannaeyjar, Dyrhólaey etc.
We saw weak northern lights and hiked the Pétursey mountain with a chance to overlook our house from the birds view.
For sure we learned and faced a lot of new things, and, more important, we have a nice place where to stop by in Iceland.
Una, SEEDS Workcamp Leader
Find your workcamp
Icelandic Experience
SEEDS main supporters