SEEDS 046. Hitting the slopes - Blue Mountains!
16.10.2012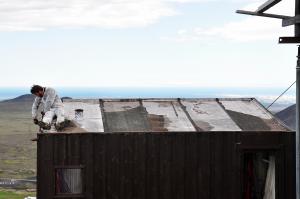 Helping to prepare the skiing slopes for the next skiing season was the main task for the enthusiastic volunteers during the end of July. The weather was extremely good for almost all two weeks, which made work much more pleasant. Volunteers enjoyed the view on the top of the mountains while painting ski houses or picking up old, unusable things around the area. There were preparing works on the mountain trail, made for downhill riders, after moving to another place in the end of the second week.
Beautiful area with wonderful lava fields and mountains around was great entertainment in the free time, especially investigating underground lava caves and doing hikes around the district. Accidentally volunteers had opportunity to visit Irafoss and Ljosafoss electricity stations during the camp, which was unusual experience. They did Golden Circle and Blue Lagoon trip, and the day in Reykjavik was spent in the weekend as well. And of course, amazing sunrises every evening was guaranteed.
There were volunteers from France, Switzerland, Taiwan, Italia, Japan and Latvia. It was such a good company for knowing other cultures and made this volunteering experience much more fun.
Lauma - SEEDS Workcamp Leader
Find your workcamp
Icelandic Experience
SEEDS main supporters