SEEDS 106. Ísafjarðardjúp: Nature & Fun in the West Fjords!
08.10.2012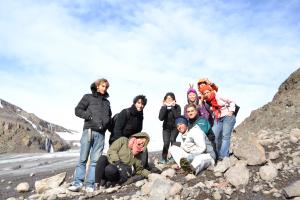 Last work camp outside Reykjavik of this year...
Yes, that was our work camp in the Westfjords, the last work camp outside Reykjavik of SEEDS this year. The cold is coming; the general winter will arrive soon.
It was such a nice place to work, located close to the biggest and oldest fjord of Iceland where we had the opportunity to appreciate and welcome the autumn... the colours of the valley were so different at the beginning and at the end... and it was only 2 weeks!!
In the working place we were changing the use of an old barn to create a new and modern greenhouse that will have in the future some kind of tropical ecosystem...how amazing, tropical stuff in Iceland, lost in the Westfjords!! We also built a new cement path and clean the heated swimming pool there is in this wonderful place.
But not everything was about working, we also enjoyed kayaking, horse riding, visiting Drangajökull (the Northern glacier in Iceland) and going for a nice hike deep in the glacier valley we were. But the most amazing thing of all was, of course, The Northern Lights. They seem almost dancing all over the valley and the fjord... it was amazing, everybody must enjoy this magical and mysterious event at least once in their life.
Closing the last SEEDS outside work camp of the year;
Jose, SEEDS Environmental Messenger
Find your workcamp
Icelandic Experience
SEEDS main supporters