SEEDS 047. Botanical Garden!
24.09.2012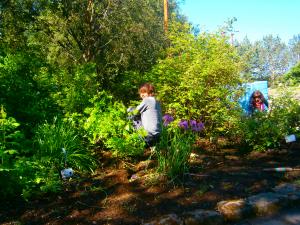 Do you know why people enjoy the Grasa Garden (Grasagarðinum) now even more than before? Yes, that's right, because our dream team - Noémie, Ana, Yuhyeon, Alexis, Franko, Jade and also Kelly, who joined the camp a week later, made it more and more beautiful day by day.
We did different types of work: weeding; sawing wood, cleaning up the paths; driving around with the golf car, burning weed with a special tool that you can see only in computer games, and most important, having coffee breaks.
After these two weeks of work our future is continuing in two different directions. Some of us now really love all plants, so let the weeds live. For others, our parents/spouses/relatives will proudly invite all the friends for BBQ to the spectacular garden next to their house.
After work, we had many different events. We shared thoughts about other countries in a funny game; had an international evening with different kinds of food; received guests who brought a huuuge double chocolate cake, which disappeared in 5 minutes! We made some trips, such as surviving on Esja with winds of 25m/s or hiking to the hot river in Hveragerdi! We went to Golden Circle, to Snaefellsnes, had an extreme drive to the Blue Lagoon. Of course, we experienced nightlife and other activities in downtown Reykjavik – we saw them, they saw us.
Two weeks passed so quickly! On the one hand there was no time for sleeping or just relaxing, on the other hand it wasn't possible to visit all the places we wanted. We know for sure, though, Iceland welcomes back everyone, and is always full of surprises.
Una, SEEDS Workcamp Leader
Find your workcamp
Icelandic Experience
SEEDS main supporters