SEEDS 080. Photo Marathon! Exhibition! Álfamyndafoss - The Picture Waterfall!
24.08.2012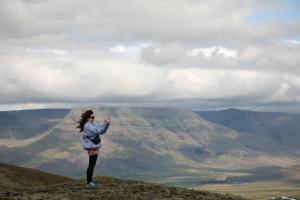 SEEDS volunteers had the idea to work with kids from Geislabaugur kindergarten in collaboration with their lovely supervisor Harpa and her assistant, teacher of one of the kindergartens sections. Volunteers had taken special lessons to practice photography-taking in portraits with minors in different work shops with professional photographers.

Cultural acceptance, tolerance and integration were the key words of this work. The idea of working with children from Icelandic families gave volunteers an opportunity not only to meet Icelandic culture but also to mix up in the kids world – fantasy, newer generations, future with elf world, traditional Icelandic believes and literature.

On big, transparent recycled polycarbonate boards, that remind flat ice pieces, transparent and colorful pictures of the kids are going to be placed building a waterfall in a special place in the Botanical Garden. The place itself is very transited giving pedestrians the opportunity to grasp and enjoy our experiences here in Iceland.

Transparency concept plays with the idea of integration. Like if stained glass works in a cathedral filtering the light in colors, providing decoration and information to the people.

The opening of the exhibition will take place at the Botanical Garden close to Kafe Flora at 20pm.

Special thanks to Photomarathon volunteers, Harpa from Geislabraugur kindergarten and Grasagardur staff.


Pablo, SEEDS Photomarathon coordinator
Find your workcamp
Icelandic Experience
SEEDS main supporters