SEEDS 007. Nature and Fun in the Westfjords - Fun indeed it was!
12.06.2012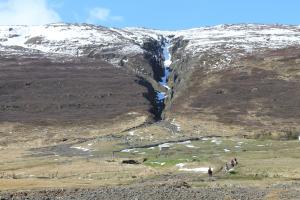 I spent the last fortnight working with 9 international volunteers in a remote part of North-Western Iceland. The project was based in a socially responsible hotel / farm / activity centre. Our main task was working on the construction of a large extension to the hotel building. But we also helped out in many different areas, from laying paths, building a rock garden, cooking, cleaning, serving drinks, tending to horses, catching escaped horses and so on.
The group was very diverse - ages ranging from 18 to 51, with volunteers from Belgium, Croatia, England, Finland, Poland, Romania, South Korea, Switzerland and the U.S.A. We had a lot of fun working together and learning about each other´s lives. There was a delicious and fascinating international evening, and the nights in general were characterised by animated conversations, even more animated ping pong, and dancing.
Our hosts looked after us very well indeed. On our days off, they organised some fantastic leisure activities, including horse riding, kayaking and glacier hiking. We were also given full use of the hotel facilities including indoor swimming pool, four artificial hot tubs and one natural geothermal spring.
The good times came thick and fast, but my personal highlight was on the evening of day three. After a hard day's work, I spent several hours in the geothermal spring with some of the volunteers and staff at the hotel. We talked and smoked and drank responsibly and gazed at the stars overhead. Although the water was around 38 degrees, the air temperature was well below zero, so our wet hair quickly became frozen. From time to time, we would take brief walks, either alone or in pairs, just to cool down and then enjoy the feeling of easing ourselves back into the warmth. A Finnish guy went to lie in a nearby ice-fringed river (seriously) because, in his words, he "likes extremes". To a non-Scandinavian such as myself, this seemed quite crazy, but he seemed to be enjoying himself, because he did it several times, and always returned with a calm smile on his face. Shivering our way home in the starlight was truly delightful, even though all our swimming gear was frozen stiff once the 10 minute walk was over.
Peter Hartree
SEEDS Long Term Volunteer
Find your workcamp
Icelandic Experience
SEEDS main supporters