SEEDS Leaders & Messengers - Fresh and well trained!
14.05.2012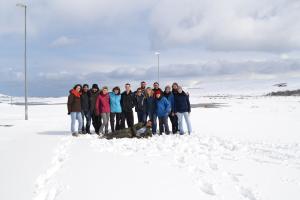 Last week the new SEEDS long-term volunteers, soon-to-be camp leaders, returned from Northern Iceland where they took part in a training camp. Joined by SEEDS office staff, the volunteers built a barefoot path and helped with renovating the facilities of an old boarding school that is now part of a community center.

Having so many "leaders" in one place may seem challenging, however the team-spirit up North was strong and the work was well done – the volunteers accompanied by our lovely hostess were eager to take their shoes off and try out the barefoot path.
After work comes rest! An international evening was held in the community center, the people from the community brought Icelandic traditional dishes while SEEDS volunteers presented food from their national cuisines. More than ten different nationalities were represented - how's that for a cultural diversity?
SEEDS volunteers also had the chance to take part in a boat ride, spot some whales and dolphins, well mostly dolphins, whales were really shy on that day, and the ones who felt like trying their fishing skills had the chance to do so – luckily we have some very capable fishermen and fisherwomen.
Having returned to Reykjavík just a few days ago our volunteers have not been idle – intensive Icelandic language courses are definitely going to keep them busy till the very day of departure to the first workcamps.
Find your workcamp
Icelandic Experience
SEEDS main supporters