SEEDS 007. Ísafjarðardjúp: Nature & Fun in the Westfjords
06.05.2012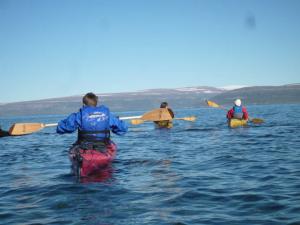 Just a wave from North-Western Iceland to say that we´ve had wonderful luck with the group dynamic and the weather!
These first days have been a real delight. The hosts seem happy with our work so far and I´m really impressed by what the short-term volunteers have already achieved. This is my first time leading a project alone, and also my first time working on a farm, so I´m learning a lot, which is very rewarding.
As well as a lot of cleaning, we´ve been helping construct the timber frame for an extension of the buidings, which meant my very first time working on a construction site, carrying, sawing and hammering 6 by 4s into shape. We´re hoping to have the roof on within a few days' time.
Anyway - time for lunch :-)
All the best,

Peter HARTREE - SEEDS Long-term volunteer
Find your workcamp
Icelandic Experience
SEEDS main supporters