SEEDS 001. Reykjavík Photographic March
17.03.2012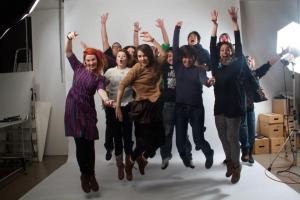 Ever find yourself coming back from vacation wishing you had taken more photos to truly capture your experience? How great would it be to have a vacation that combines voluntary work, photography lessons & sightseeing at the same time!
SEEDS can make this exact volunteer vacation possible through our photo marathon work camps. For two weeks volunteers learn a variety of photography skills through guest speakers and workshops. Volunteers get the chance to improve their skills through various activities such as photography missions, picture treasure hunts, and night photography. At the end of the two weeks the photos volunteers have taken will be displayed at a location in downtown Reykjavik for an exhibition open to the public. Our most recent photo marathon had their exhibtion at Café Floki where for two weeks the volunteers photography was on display for all the public to enjoy.
Photo marathon work camp volunteers will also experience working at the new SEEDS volunteers' base located in the outskirts of Reykjavik. Work will consist of assisting and giving contributions to the future development of SEEDS with tasks such as working to set up the centre for summer. Volunteers may also work with the city of Reykjavik with duties involving painting to cover graffiti tags, tiding up public spaces, and assisting with clean up tasks to keep the city and its public areas lively.
In addition to the work camp activities volunteers are encouraged to get out and enjoy the downtown Reykjavik life. Visit shops, museums and cafes, enjoy an amazing trip to the Blue lagoon and the must see Golden Circle. Overall a great time for everyone!
SEEDS hosts our photo marathon camps at various times throughout the year. If your interested in particpating in one of the photo marathon camps check out our webpage for more details and work camp dates at http://www.seeds.is. Any other questions feel free to contact us at http://www.seeds.is/contact-seeds.
Kaelene Spence
Find your workcamp
Icelandic Experience
SEEDS main supporters