SEEDS at Útsókn - February 14, Keflavík
13.02.2012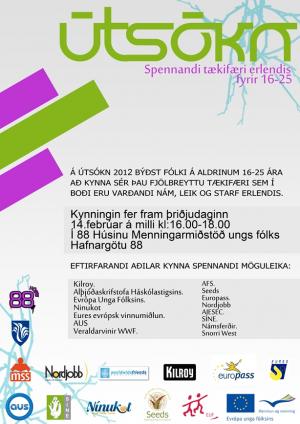 SEEDS will be in Keflavík on the 14th of February for the 2012 edition of Útsókn.

The event is a showcase for Icelandic youth to learn about the possibilities to make experiences abroad!

We will soon be sending volunteers to Italy, Portugal, South-Korea and Turkey. So if you are looking for an exciting experience abroad, come and meet us in Keflavik.

You can also contact us through our website at http://seeds.is/contact-seeds.
For details on workcamps abroad and short-term volunteer projects, please check http://seeds.is/iceland-volunteer-abroad-sci.

Find your workcamp
Icelandic Experience
SEEDS main supporters