SEEDS at Útþrá - February 7, Hitt Húsið (Reykjavík)
11.02.2012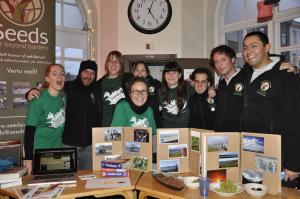 This year again, many youngsters came to Útþrá in Reykjavík city center, looking for information and opportunities to join a project abroad.

Of course, SEEDS was there with all forces to provide casual conversations and accurate answers.
We are really satisfied to see that Icelanders are paying interest in our projects abroad. Two groups of volunteers will be going to Italy and Portugal by the end of March and many more opportunities will come up for spring and summer. We are soon sending a short-term volunteer to South Korea and another one to Turkey !
Please check our website for more information and don't hesitate to contact us if you are looking for adventure and exoticism.
For details on workcamps abroad and short-term volunteer projects, please check http://seeds.is/iceland-volunteer-abroad-sci
You can also contact us in case you do not find a project that fits your timing, country, working type, etc.
Find your workcamp
Icelandic Experience
SEEDS main supporters