SEEDS 101. Advent & Christmas in Reykjavík
26.12.2011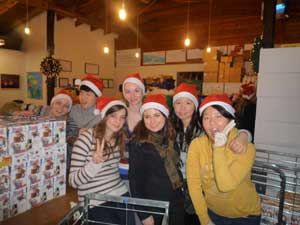 Sleep tight volunteers, Santa is coming! Moreover, you are working tomorrow morning...

Twenty of us have been involved in SEEDS Christmas 2011 Advent and Christmas work-camp, and two sentences will be forever in our head and heart:
- "Would you like a cup of hot chocolate?"
SEEDS volunteers were actively helping the Icelandic Red Cross to give hot chocolate in the streets of Reykjavik. It is a great way to raise money for the Red Cross, but it is also a good opportunity for the volunteers to meet Icelanders. A lot of people are happy to have a cup of chocolate and a conversation.
- "Can I help you with your bags?"
The economic crisis has been hitting Iceland as many other countries. We were giving Christmas food and presents for families in need. And of course, we were helping people to carry all this food back to the bus stops or their cars. Working hard and helping people gave a really special spirit to this group.
I still don't know where we found the energy for partying (a lot) and going on excursions!

Florian MERLE (SEEDS Workcamp leader)
Find your workcamp
Icelandic Experience
SEEDS main supporters