SEEDS 21. Meet us - don't eat us! (2)
29.06.2011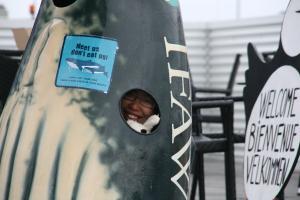 Seeing a whale in its natural habitat is a breathtaking experience. We had the chance to see these great sea mammals up close during our workcamp in cooperation with the IFAW.
You can say we approached the topic "whales" from many different angles during this workcamp. We gained a lot of knowledge about these sea mammals, and we were part of a campaign to inform tourists about whaling in Iceland. Our task in the campaign was to hand out flyers to the tourists. We even had a giant whale costume we would wear. But of course, we wouldn`t only hand out flyers: we were organizing a flashmob, free waffles, a street banner and we were making origami whales that we would hand out. Handing out the origami whales was a lot of fun, and I had a moment of real flower power feeling.
Doing this workcamp was one of the best experiences I had this summer – we got to gain some hands on experience of how street campaigning works – and maybe we saved some whales.
Sonja Kovacevic (SEEDS workcamp leader)
Find your workcamp
Icelandic Experience
SEEDS main supporters