SEEDS 57. Nature and Culture in the South of Iceland (French scouts group)
27.07.2011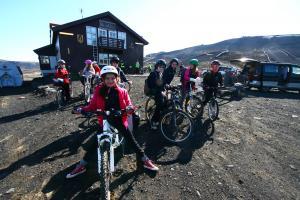 French scout group in Iceland : Bicycle trip from Keflavik to Vik!
"Les Caravelles" coming from the Paris area in France, decided to organize a trip for 3 weeks together in Iceland. Les "CARA" like we use to call them are a group of 11 girls that are between 15 and 17 years old and for one year they were working and preparing this project in France with the help of Gaelle, Marie and Alexandra, their leaders.
Our scouts decided to travel in Iceland by bicycles; they started their trip from Keflavik to Vik in the first week. For the second week of this adventure, the group wanted to make a different experience and for this occasion take part in a volunteering project in Iceland. SEEDS helped them to coordinate a volunteering project in a traditional icelandic farm in the south of Iceland around Vik.
After one week of cycling with the famous Icelandic weather, our scouts arrived in the farm tired but happy to set up their tents for one week in the garden.
Lisa RICARD (SEEDS workcamp leader)
Find your workcamp
Icelandic Experience
SEEDS main supporters