SEEDS 20. Sustainability in Action
24.06.2011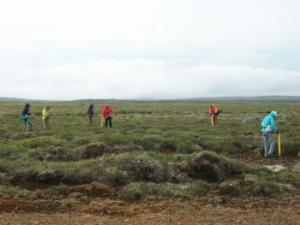 We were welcomed in this farm the first day by young Icelandic puppies! Adorable!
It is the first project of Seeds at this organic farm. Our host has many projects around the farm like breeding Icelandic dogs, raising horses, and developing her project of a peace center. Our host is an eclectic and surprising woman who has a lot of humor and likes sharing her ideas and her vision of things. We worked with her husband to plant various types of trees in several places near the farm.
Their projects are supported by the Icelandic government. We had an incredible view on the glacier of Eyjafjallajökull! We were also able to visit the Westman Islands with the volunteers, it was magnificent and so surprising to discover an Island as this one. From our host we also learnt to make several products with fresh milk, yoghurts and ice cream, and we also learnt to prepare, a little bit strange or at least uncommon, drinks such as grass juice mixed with garlic! We had many good experiences during these two weeks in this multifaceted farm...
Eddy BARAU (SEEDS workcamp leader)
Find your workcamp
Icelandic Experience
SEEDS main supporters