SEEDS 81. Viking Festival & Fire in Húnaþing
27.07.2011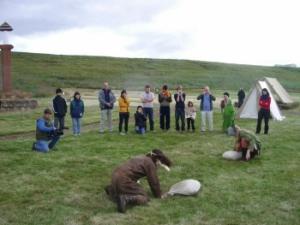 Imagine dressing up like a Viking and playing with swords and axes, shooting arrows with real Icelandic bows. Everything you could imagine related to Icelandic and Viking culture is in this workcamp.
We played Viking games, we built real Viking tents from wood with the help of our host, made a traditional Icelandic bread, listened to sagas and Viking stories told by the Icelandic people! We also helped to prepare the young festival in Húnaþing and we had the incredible opportunity to take part in a spectacular concert placed inside a crater of a real volcano!
Our hosts were so nice that they also took us for a trip around the place so we could know the area better, see Iceland and its nature. This is definitely a workcamp which was worth taking part in!
Chiara FERRARI MELILLO (SEEDS environmental messenger)
Find your workcamp
Icelandic Experience
SEEDS main supporters