SEEDS 53. Nordic Sailing, Coastal & Cultural festival
15.07.2011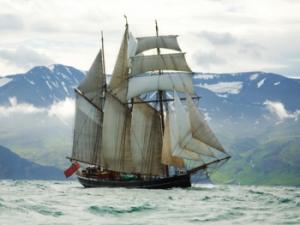 We start the day with the best breakfast ever! Looking from the window of the 'Dill' Ship, docked in Husavik.
Swallowing slowly the delicious breakfast we prepared ourselves for another day of working in the 'house', 'visir', 'shrimps', 'rax'- which are small galleries we always forget the names of. There are horns made of metal and plastic we have to guard, that have been destroyed many times during these days by curious people.
There were a lot of handicraft workshops – like knitting, jewellery making or building boats, that we could also take part in. At the end of the day, there was a concert and we were enjoying a beer and listening to the nice music.
Malgorzata KUCHARCZYK (SEEDS environmental messenger)
Find your workcamp
Icelandic Experience
SEEDS main supporters