SEEDS 35. Window into the Viking World
01.07.2011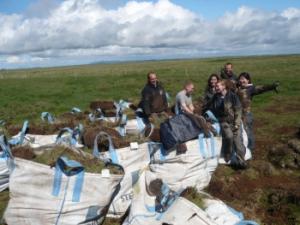 Returning back to a "normal" house after the pleasure of two weeks living inside a fully functioning turf house is somewhat of a disappointing slump back to reality .
Our group of volunteers huddled into the cosy, creaking, old turf house and had a glimpse into the humbling architectural heritage of Iceland.
Located beneath the view of volcano Hekla and close to the small coastal towns of Eyrarbakki and Stokksseyri, the group had the opportunity to explore the local area and enjoy spending the long summer days and evenings outside.
By day we carried and laid stones to make entrances for the new "Turf house museum" being built alongside the old turf farm, learnt how to cut turf and started to build a turf wall, maintained the garden, and used recycled marble and kitchen surfaces to create the indoor floor of the museum. By night I was also doing similar activities; after laborious work of laying stones hour after hour, trying to find the perfect stone to fit the specific gap in the floor, I began dreaming of this activity too.
The group gathered from Japan, Korea, Mexico, Spain and England, with diverse interests and studies from Physics, Nutrition and Architecture. Even for those without a background in Architecture, it seemed that having such a unique experience to live in a turf house and have the expertise of our host, a specialist in turf building, ignited an previously unknown interest in each volunteer, whether for the sustainability and environmental credibility of such architecture, the cultural heritage, or the aesthetical value.
Kelly MURRAY (SEEDS workcamp leader)
Find your workcamp
Icelandic Experience
SEEDS main supporters