SEEDS 43. Njálsbrennuhátíð - Viking festival
03.08.2011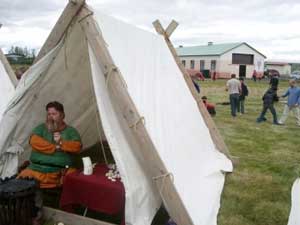 The Viking festival workcamp in the south of Iceland, in the small town Hvolsvöllur, was very popular among SEEDS volunteers this year.
Many volunteers from all over the world created a memorable atmosphere of the old viking times in Iceland. We lived and prepared the festival next to the Saga Centre. The main focus of the festival was a re-enactment of the Njál's Saga. Every day we practiced many fighting scenes, dressed up as vikings, dined in a viking-styled hall. Some of us took part in the play along with other Icelandic actors. The group of volunteers built a house, which according to the saga was burnt down.
The weekend of the festival was eventful and busy. We had the chance to communicate with locals and show them the Viking games we had prepared. Many competitions attracted both children and adults. Although the weather wasn't as good as we hoped, the number of guest was higher than expected. The time spent in Hvolsvöllur was exciting and it was surprisingly easy to adapt to the life of the Vikings.
Eleen Luisk (SEEDS workcamp leader)
Find your workcamp
Icelandic Experience
SEEDS main supporters