SEEDS 82. Cycling the Circle
14.08.2011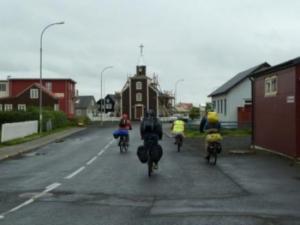 Cycling and Sun in the South of Iceland
On the 14th of August it was a sunny day. Over the last two weeks, while cycling around the south of Iceland, there have been few moments where such an assured statement can be made. This cycling work-camp has been at the mercy of all types of Icelandic weather: the gusty winds, skin-stinging rain, piercing cold and swarthing cloud . No wonder the weather dominates conversation so much here in Iceland. However basking in this sunny splendour a small group of devoted volunteers are cycling the 115km back to Reykjavik, on this, the last day of the cycling work-camp. The group had been fourteen, now it was just five; most volunteers felt the distance was too great for them. One exception was Julia Shubina; she had proven as hard to predict as the Icelandic weather.
Julia is in her thirties, living and working in Moscow on children's programming for a national radio station. Flying with her to Iceland was her son's bicycle; he was currently studying in Prague, so he had no need for it. None of the others in the group had brought their own bicycles. The group comprised of younger students of mixed cycling abilities and nationalities - Czech, Spain, American, French, Estonian, and Korean. Although the age difference was not great, I wondered how she would fit into the group and if she was capable of cycling long distances consecutively.
Midway through the work-camp, my concerns seemed to have been justified. The distance that day was short, the weather was not impeding our progress but Julia was a long way behind the rest of the group. I cycled with her that day and used this time to ask what motivated her to join a cycling work-camp in Iceland, she replied " I have travelled by horse and rowed the length of an entire river by boat, so now I want to travel by bicycle." When she told her friends she would be participating in a cycling work camp, she said, " they could not believe it; this was an adventure for younger people."
During the two weeks, most of the group had cycled further than they had ever done before; none were confident cyclists, let alone undertaken a bicycle tour. They were tired, their bodies ached and were fed up of sleeping in tents. Once the group reached the end destination some volunteers were relieved the cycling was over; they had made the decision to take the bus back to Reykjavik from nearby Selfoss. But for some, the prospects of making the 115 km journey back in one day was too tempting: Julia was one of them.
From the beginning, Julia fell behind. The group split up as they travelled around the southern coast of the Reykjaness Peninsula: moving slowly over the gravel road leading to Grindavik, forcing their way through strong winds, oscillating over the roads leading around Kleifavatn; sailing past the lava fields on the asphalt leading to Hafnarfjörður; eventually navigating through the frenzy and urban sprawl to downtown Reykjavik. What Julia would later tell me was that she had made it as far as Hafnarfjörður, a mere 10km south of Reykjavik, exhausted. A kind Icelander had stopped and put her son's bicycle in the back of his truck and gave her a ride downtown.
Julia had made it and for me it was because she had the most important quality for long distance cycling: stubbornness. While the other volunteers had taken the easier option, Julia felt compelled to carry on and finish what she had begun. Cycling is more a mental challenge than physical: Julia knew she had challenged herself, but she left Iceland knowing no distance was too far for her to cycle.
Andrew KELLOE (SEEDS workcamp messenger)
Find your workcamp
Icelandic Experience
SEEDS main supporters