SEEDS 50. Meet us, don't eat us
03.08.2011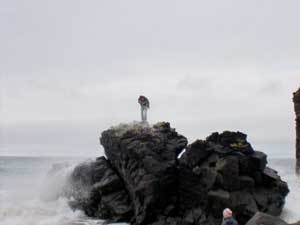 Today was Magic Waffle Day!
It wasn't "Magic Waffle Day" from the beginning, but more like dark, rainy and moody for us, the whales. "Whales" is how we call each other in this workcamp centered on whale protection. We all received a training on the whaling issues in Iceland and the life of these gentle giants, and we`ve been wearing the tail costumes for days… Come on! We are turning into whales!
In the morning, we didn't have much spirit for doing our job. In the rain, the flyers were getting wet and our passive campaign of informing the tourists on the whaling issue…well, was really getting passive. Nevertheless, as I said before today was the Magic Waffle Day.
In the afternoon, we got armed with spoons, ladle, waffle maker, sugar and rhubarb jam. While we were preparing the first round, the sun came out and in less than half an hour the harbor was smelling like delicious waffles. Tourists came back from the whale watching tours and even made a line for our stand. We were all smiling, talking to people, giving our flyers and offering free pictures and hugs with our whale tails.
It was a really wonderful end to the day. The best really comes last, sometimes.
Ana DUMBARA (SEEDS workcamp leader)
Find your workcamp
Icelandic Experience
SEEDS main supporters