SEEDS 24. Skriðuklaustur - making history
21.06.2011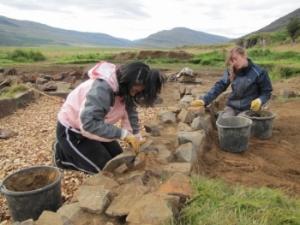 "Skriðuklaustur, stop a while
Skriðuklaustur, eat a while
Skriðuklaustur give your cakes to meeee.
´Cause I need you, how to survive
Without the breaks with apple pie?"
Please imagine the "Pretty woman" song in the background as you read these lines. These lyrics were specially created for our host in Skriðuklaustur and all the nice people that we worked with in those two weeks.
Of course, not everything in that workcamp was about having coffee breaks and eating delicious cakes. Actually, the first lyrics were: "Skriðuklaustur, no more grass for me./Skriðuklaustur, picking leaves from trees". Our time spent by the Lagarfljót lake meant a lot of outdoor physical work, sometimes in snowy weather. But the chef at the museum in Skriðuklaustur, is one of the best chefs in the world. Her steamy, creamy, tasty food even made one of our SEEDS´ volunteers join another workcamp there.
Working tasks were different every day. We improved the walking paths with wood chips, built children´s trail and rope challenge for kids, cleaned the rhubarb garden, mowed the lawn and helped with cleaning the ruins of the monastery. Our work was highly appreciated by many visitors of this place who mentioned to employees of the museum how beautiful the area is.
All the staff in Skriðuklaustur were very welcoming to our group and always supported us, even when we ran out of gas. Hm...how did this happen? All our weekends were really nice, as we had a rented minivan that we could use. So, we got to see many stunning natural sights close by: some of the little picturesque cities in the East Fjords (Reyðafjörður, Neskaupstaður or Eskifjörður), Hengifoss waterfall, the biggest forest of Iceland- Hallormstaðarskógur, the Highlands and the Karahnjukar dam. The catch is that the gas indicator on the board of our minivan was not working. So, we presumed that we still had a lot of petrol in the tank. We presumed wrong! We ran out of gas in just 200 m distance from our house. It was such a relief! If this would have happend just one hour before, we would have got stuck in the Highlands on a snowy day, where a car passes by every four hours.
Those two weeks felt a bit like "The summer of '69" Brian Adams´ song. Looking back, we had a lot of laughs with the nice staff at Skriðuklaustur, we swam in the freezing cold ocean and the lake populated by the worm monster, we ate McRudolf – special burger with reindeer meat, we had a hippie day driving in our minivan and letting our bathing suits dry on top of the car and...we made friends.
Ana DUMBARA (SEEDS workcamp leader)
Veronika PARICKOVA (SEEDS environmental messenger)
Find your workcamp
Icelandic Experience
SEEDS main supporters