SEEDS 76. International Swiss School
19.09.2011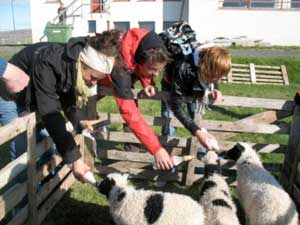 During this week, SEEDS is hosting a group of students from an international school in Switzerland that will split and work in two different locations. One group is near Hvolsvöllur, helping in an organic farm and the other group is in Þórsmörk, at the natural reserve, helping in one of the accommodation facilities in the area.
Two days ago, this same group of volunteers was discovering one of the most famous places in Iceland: The Golden Circle. This trip offers the possibility to discover places such as Þingvellir, the oldest parliament of the world and at the same time a good place to observe the ridge between the American and Eurasian tectonic plates; Geysir, a hot spring that bursts with water over 70 meters high; Gullfoss, the most beautiful waterfall in Iceland (in the opinion of many Icelanders and also in the writer´s opinion) and a small and inactive volcanic crater with a lake inside. The volunteers had a great time there and took some nice pictures.
Now, we hope both groups are having fun, helping at their locations and looking forward to their next trip, to the South coast of Iceland.
Alba GONZALEZ (SEEDS workcamp leader)
Find your workcamp
Icelandic Experience
SEEDS main supporters