SEEDS 32. Happy days festival & nature in the Western fjords
10.07.2010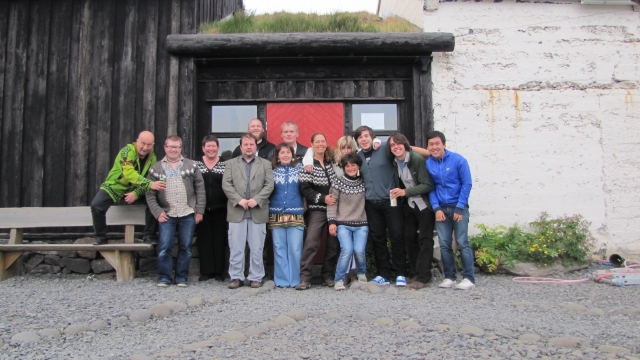 Between the 26th June and 10th July, 6 Seeds volunteers helped the community of Holmavik in the Westfjords region to prepare and celebrate their annual "Happiness Festival". The team included volunteers from South Korea, Russia, Italy, the United States and the United Kingdom. Staying in the pretty Landsbjorg house next to the harbour, the volunteers work was divided between the festival and maintenance work on the hiking trails surrounding the small town.

The team bonded really well whilst sharing ideas to celebrate happiness, and everyone got stuck in working to come up with something visible and different to give to the local community. The result, 6 volunteers dressed in crazy wizard outfits casting spells of happiness on the community, including a spell for good health, a spell for love and for good luck. Over the weekend, the team helped to set up and clear up after the various events, laughing as we did so.

During the second week we worked on the windy hills above Holmavik, tidying the trails and fixing them ready for the harsh Icelandic winter. All tools were provided by the host, and the team worked hard and played hard, enjoying the beautiful views of the fjord as we worked.

The team was very lucky to be supported by several members of the community. Lili gave us all we needed to be comfortable in our temporary home. Sigi, owner of the Icelandic museum of Witchcraft and Wizardry, gave us all the props we need to make truly original (and ridiculous) costumes. Thanks to Asta for organising a great trip up the coast and for making sure we worked hard on the hiking trails! The team enjoyed horse riding trips through some beautiful landscapes, and a fishing trip into the fjord where we caught our dinner. We really felt as though we were a part of the community, and enjoyed our time there very much.
Find your workcamp
Icelandic Experience
SEEDS main supporters