SEEDS 67: Forestry at the foot of Icelandic Alps
01.09.2010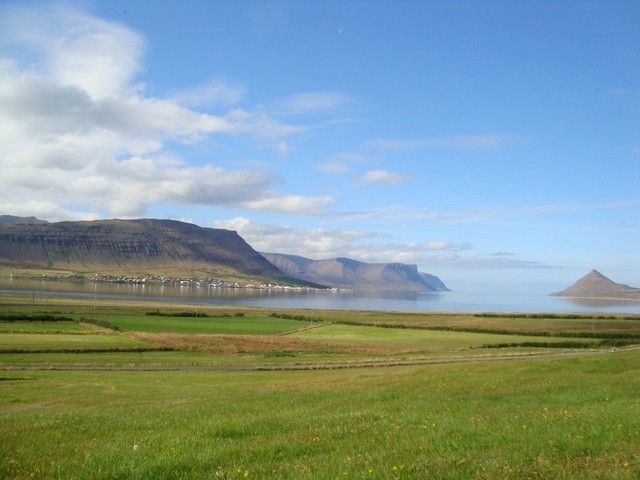 Two stunning weeks in Þingeyri -a small town at the foot of beautiful Westfjord mountains.
Feels like one could just sit on the grass and never stop enjoying every-minute changing landscape. We were in total, nine lucky ones from six different countries - Faustine (France), Margot (Belgium), Florian (Belgium), Christina (Ireland), Viola (Germany), Alison (Ireland), Serban (Romania/France), Laura (Germany) and Ginta (Latvia).
We all squeezed in a small farm house, and the evenings were always spent with beautiful melodies from Flo's guitar. Here we spent most of our time, but free days were always spent visiting most beautiful places in nearest surroundings, like climbing Kaldbakkur (the highest mountain in Westfjords, 998m), visiting Hesteyri (small town in Hornstradir peninsula) and Ísafjörður (the biggest town in Westfjords) as well as going around peninsula. And it could be hard to imagine this time without our best friend -the car and the only CD with Flo's mix of great songs that will always remind us about this great time all together.
During these weeks we were making hiking path in local forest at the end of Dyrarfjordur as well as helping out by planting trees in botanical garden and cleaning another local forest. But the most fun was to have one of many blueberry breaks and having blue fingers and lips all day long. We worked together with two local men that helped us a lot with good advices and instructions of better use of tools and better way of doing our tasks. We were good friends with local cafe owner from Belgium and his friendly dog Max that joined us not only for International evening but also for our hike up to Kaldbakkur.
This was really amazing time that we all spent together - all delicious meals, funny living in small house, evening entertainment activities, northern lights and beauty of stars in darkest nights - all these things and even more are now part of our great experiences in Iceland.
Find your workcamp
Icelandic Experience
SEEDS main supporters