SEEDS 75. The Best of Both Worlds: Reykjavik and the Wetlands!
24.08.2010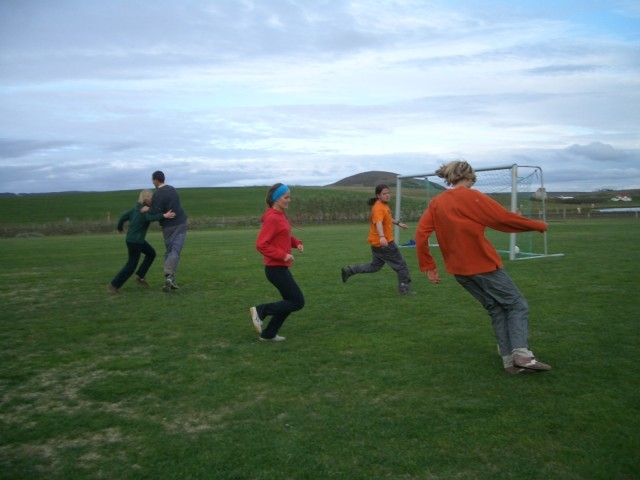 Seven volunteers from all over Europe (the Czech Republic, Italy, England, France, and Spain) arrived in Reykjavik to meet their Hungarian leader.

Our workcamp was very balanced one because we experienced both the countryside and the city life of Iceland.

Eyrarbakki

We spent the first week on the south coast of Iceland in a village called Eyrarbakki. One of our hosts had just opened an organic cafe called Bakkabrim with her husband. Located next to the harbour of Eyrarbakki, we saw Bakkabrim for the first time when we arrived on the 10th of August.

Our main task was at the Flói bird reserve in a nearby the village. There, we planted trees, collected garbage from along the riverside of Ölfusá, painted the bird watching house, spreaded grass seeds, and helped around the harbour.

Both hosts and volunteers thought the workcamp was successfull and we were all satisfied with our work. During our two free days, some of our group visited the Westman Islands and the hot river at Hverager?i. The other volunteers went on a 2-day hiking trip up the volcano. Those who visited the volcano got to check out the lava and get some fresh ash to their pockets.

We invited our hosts to our international evening, where we experienced the food and culture of all our different countries. The two young children of our host also joined us for this fun night.

Durring this week, our accommodation was the Eyrarbakki sports hall. We had a good time getting to know each other, playing all sorts of sports such as badminton or floor ball.

Reykjavik

The capital of Iceland, the smokey bay! We arrived and helped the city Reykjavik by painting over graffiti tag. We worked downtown and in the district called Brei?holt. We painted lamp posts, playgrounds, walls and alleys all sorts and colours.

That week we had very nice weather thanks to Þor! We greatly enjoyed the thermal beach and outdoor swimming pools of Reykjavik. During our free days, we enjoyed one biggest art festivals of Iceland, visited the island of Vi?ey, and relaxed in the Blue Lagoon.

During this one week our headquarter had been Bjarkarhlið, the house of the SEEDS long term volunteers. Everyone in the group was able to make friends with other volunteers and learn more about volunteering. Time went by quickly. We were sad to say goodbye. We exchanged email addresses and we hope to see each others again! BAKKABRIMAS FOREVER!
Find your workcamp
Icelandic Experience
SEEDS main supporters