SEEDS volunteers assist with clean up from the Eyjafjallajökull eruption!
30.05.2010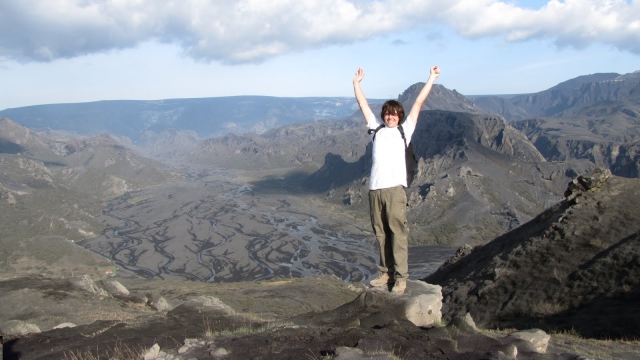 In the second half of May 2010, 3 SEEDS volunteers from the USA, Italy and Germany were supposed to go to a workcamp in Þorsmörk– the secret forest of Thor. It is a beautiful nature reserve north of Eyjafjallajökull and a very beloved hiking area, indeed.
During the first week of the camp, we were not allowed to go Þorsmörk because of the ongoing activity of the famous volcano, Eyjafjallajökull. At the start of our workcamp, ash was raining down from the sky in Þorsmörk! Therefore, we spent our first week in Reykjavík, painting over graffiti around town.
Luckily, permission to enter the area of Þorsmörk was granted for the second week. We moved to Húsadalur and 4 more volunteers from Latvia, Denmark, Spain, and England joined our group.
The whole area was covered with ash and we felt like we had landed on the moon! We started to clean the huts, roofs and pathways of Húsadalur right away. In our free time we enjoyed the hiking paths of the area. Even though everything was grey with volcanic ash, the landscape was still very beautiful!
Our workcamp provided us with a once-in-a-lifetime experience of staying near an active volcano. We saw first hand the beauty and destruction caused by this natural phenomenon. We will remember this experience for the rest of our lives and share the story of this workcamp with our grandchildren!
Find your workcamp
Icelandic Experience
SEEDS main supporters