First SEEDS project of the year! SEEDS 01. Reykjavík: Design, renovation & environment
20.03.2010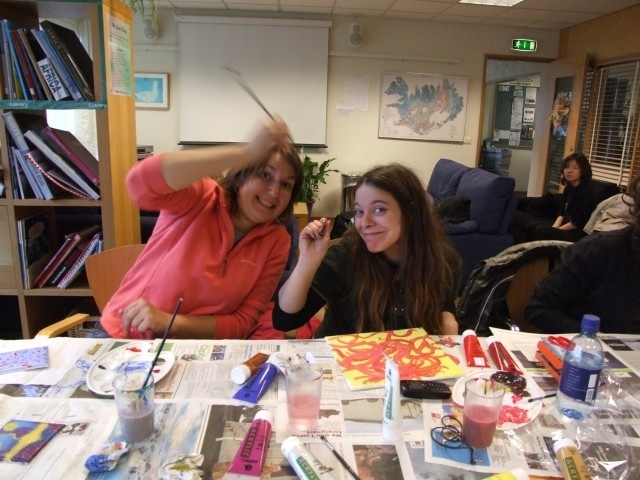 Volunteers from Korea, Italy, Latvia, France, Israel and Slovakia had the honour of being part of the first SEEDS project of 2010!
Our main responsibility for this project was to help organise the Design March, an annual, four-day design festival in Reykjavík. Also we took part in a one-day event to fight racisms, called Enjoy Diversity, and helped renovate a new house for SEEDS volunteers.
During our two weeks volunteering, we stayed in a house for SEEDS volunteers in the heart of Reykjavik. Our accommodation was cute and tiny so we called it our dwarf house.
For the Design March we delivered leaflets and posters, organized the office of the Design March, uploaded information on the Design March home page, arranged a place for the opening and closing ceremony, and helped with logistics and planning.
For Enjoy Diversity we made and distributed pins, handed out leaflets in Reykjavík´s shopping mall, and participated in a public "freezing" demonstration. For the "freezing," all of us walked through the mall and suddenly froze in place. Seeing a group of people frozen in place caused mall-goers to stop to see what we were doing. Once we had the attention of others, we gave them information about Enjoy Diversity day.
In the new SEEDS house we prepared the garden for planting, painted the house, and cleaned the interior. We did a great job!
We had an access to the gala concerts at the end of Design March where we saw and heard many famous Icelandic musicians and bands from other countries. On one of our free days, we travelled to the amazingly windy and beautiful Snæfellsnes.
Throughout the two weeks, we greatly enjoyed working with each other, learning more about our different languages and cultures, and experiencing Iceland together. We had a wonderful time and formed great friendships !
Find your workcamp
Icelandic Experience
SEEDS main supporters