1 workcamp, 2 amazing locations!
11.07.2010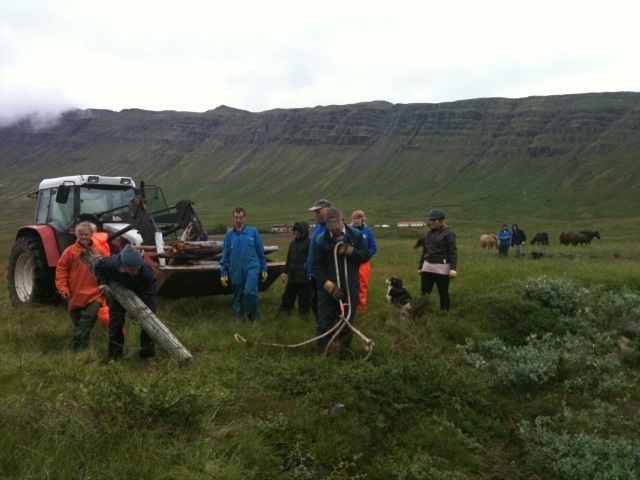 A group of 9 volunteers from 6 different countries - UK, USA, France, Spain, Romania, and Latvia spent 2 amazing weeks in 2 different places in Iceland.
We spent the first week in farm near Neskaupstaður with our friendly hosts. The farm is located in a place with breath-taking view of snow-covered mountains. For volunteer work, we cut and planted trees, weeded, and pulled down old fences. During one of our free days, we had the opportunity to ride real Icelandic horses for the first time in our lives! Our hosts made us feel very welcomed.
We enjoyed the songs our hosts sang to us and the delicious meals they cooked for us! The second week was spent in the small village of Möðrudalur in the north of Iceland. Möðrudalur is a place where one can actually feel away from everything. It is so peaceful and quiet. Here we built turf walls. It was a hard job but we had a lot of help from locals and even from the 4-year-old daughter of our hosts! At the end of our work camp, we were proud of all the work we completed. As a reward for our labour, our hosts took us to the mythical Myvatn area where we enjoyed the memorable landscape and a swimming pool visit.
We were lucky to experience one of Möðrudalur's warmest days of the year. Some of us went swimming in a cold river to celebrate the warm day. Others climbed one of the near by mountains to get marvellous view of all the surroundings.
There was a great atmosphere in this work camp. We all learned quite a bit about other cultures - not only language but also habits, traditions, and recipes. We enjoyed an amazing two weeks with many of new experiences and many spectacular views along the way!
Find your workcamp
Icelandic Experience
SEEDS main supporters