SEEDS 30. Stykkishólmur in the Snæfellsnes peninsula
10.07.2010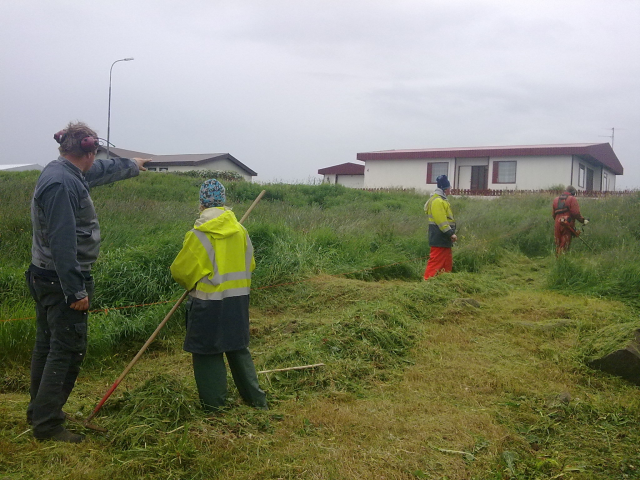 The main mission of this work camp was to help locals preserve the green areas in the town of Stykkishólmur. We cut and gathered grass, gardened, cut lupins (an invasive species in Iceland), and painted. 5 volunteers from Portugal, Israel, Iceland, Germany, and Latvia did all of this work!
Our evenings and nights were spent in a local school, sleeping in classrooms. It was a nice little school and we were provided with everything we needed.
Stykkishólmur is magical place with beautiful surroundings and breath-taking sunsets. It is a great place to be for bird, sea, and mountain lovers. Notably, Stykkishólmur is the first community in Iceland to start eradicating the invasive lupine plant.
One of the most interesting experiences we had in Stykkishólmur was helping a local biologist prepare for a lupine eradication experiment. Hopefully his research will yield important results!
The local people that we worked with were very friendly and welcoming. We were impressed by their simple way of life and their positive attitudes. In the company of locals, we enjoyed a wonderful international evening and an unforgettable football match! One of our most beautiful memories is of the day when we made a cake for the surprise birthday celebration of a local boy. He was very surprised and we all felt very happy.
During our free time, we explored the area by boat, car, and foot; our host brought us on a boat tour around islands of Breiðafjörður. We took a car trip around the whole Snaefellsnes peninsula. Also, we went on two hikes in the surrounding mountains.
All in all we had a wonderful time in Stykkishólmur. We greatly enjoyed our volunteer work, the beauty of the area, and the friendliness of the locals!
Find your workcamp
Icelandic Experience
SEEDS main supporters