SEEDS volunteers help restore a barn for Alviðra's Environmental Education Centre!
31.08.2010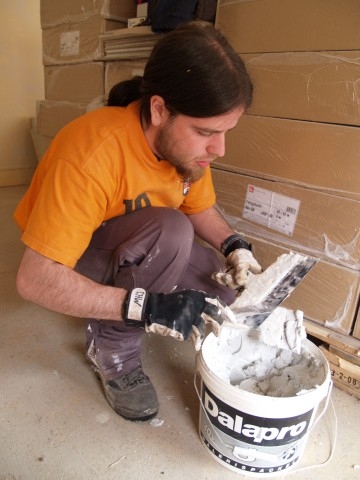 Between the days 17th and 30th of August, 10 volunteers from Portugal, Italy, Spain, France, UK, USA and Russia volunteered at an environmental education centre close to in southern Iceland.

We stayed at the foot of Ingólfsfjall mountain where two different coloured rivers meet. A beautiful forest and blueberry field surrounds the house. Amazingly, we were in view of the famous volcanoes Hekla and Eyjafjallajökull!

Our main project was restoring the environmental education centre, which used to be a old farm. We painted the barn, mowed the grass, and built a bonfire, a chicken room, chicken fences, wooden stairs, and a compost box. Our host is responsible for a famous Icelandic environmental online database and she is an artist. Because of her environmental and artistic interests, she gave us the freedom to express our creativity through our work.

We did many fun activities, several of which organized by our host. We had many guests including a woman who taught us old pagan practices and an astronomer who took us stargazing. Our host offered us a rented van and we went exploring waterfalls, glaciers, and black beaches in the vicinity of Eyjafjallajökull and Myrdalsjökull . The group atmosphere was amazing; we played many team games, watch northern lights, baked bread in a bonfire, and enjoyed each others company. We were all happy to have visited such a beautiful and interesting place.
Find your workcamp
Icelandic Experience
SEEDS main supporters