SEEDS 28. The longest day in the longest fjord!
20.06.2010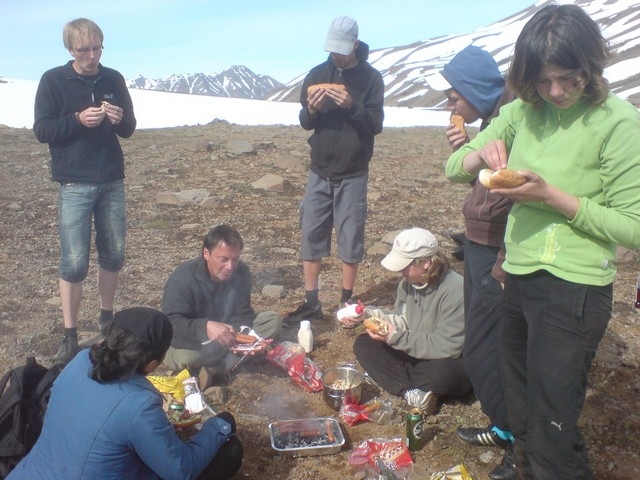 SEEDS volunteers traveled 500km north of Reykjavik to the peaceful town of Ólafsfjörður.
Only 50 km away from Grimsey Island, Ólafsfjörður is one the closest towns to the Arctic Circle, in a fjord where one can enjoy the reflection of the mountains in the water and go for a boat trip to see Europes tallest mountains that begin at sea level. Surrounded by tall peaks, the melting snow provides water for the amazing waterfalls and small rivers in the area. Both experienced and beginner hikers can enjoy the variety of near-by hiking trails.
One of our tasks was to create a hiking trail on an old road damaged by avalanches and landslides. Starting from Ólafsfjörður and ending in Dalvik, the trail now is open to all who want to enjoy spectacular views or witness the world famous midnight sun. At midnight on the longest day of the year (the 21st of June), we hiked this trail, admiring the progress of our work and enjoying the sunshine.
In the forest, we worked with local youth, building wooded bridges and walking paths. Siglufjörður used to be called "Herring City" because it was home to the biggest herring factory in the world. We enjoyed visiting the herring museum of Siglufjörður This museum traces the history of the town through the lives of fishermen.
We spend the last day of our work camp hiking the Drangaskar trail to a half-frozen lake for a barbecue with traditional Icelandic hotdogs. Sitting around the barbecue and admiring the beauty of the unique Icelandic landscape, we felt lucky to have visited such an amazing area. Also, we felt happy knowing that we made it easier for others to experience the beauty of the local nature by using our hiking trails.
Find your workcamp
Icelandic Experience
SEEDS main supporters