Volunteers build a natural playground!
26.06.2010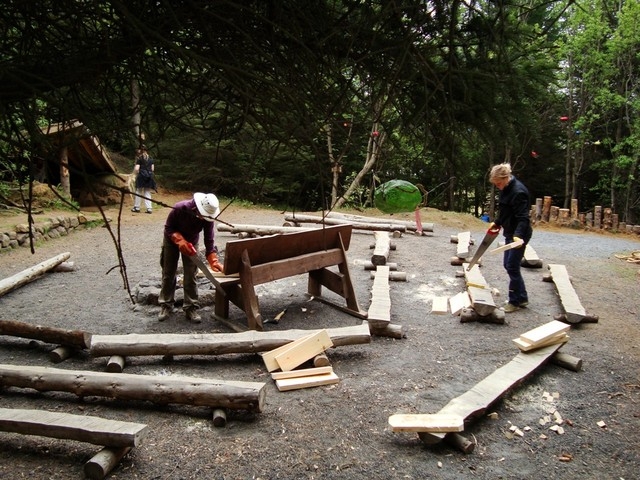 Volunteers from Italy, Switzerland, Germany, the United States, and Korea began their workcamp with two questions: what exactly is a natural playground and how are we going to build one?
Natural playgrounds combine landscape features, local plants, and natural materials in order to inspire children to play, have fun, and learn about their surroundings. Before we arrived, our host, a landscape architect, worked with teachers of the local kindergarten to create a design for a natural playground in Reynislundur. Our task was to gather the materials needed for the playground, construct different play areas, and ultimately make the dream of our host, local teachers, and local children a reality.
After completing the first mammoth task of moving ten tons of turf to the playground site, we began constructing the different elements of the forest playground paradise. The playground is divided into different areas designed to stimulate childrens imaginations. For the toddlers, we created a Teletubbie-like landscape with slopes covered by soft grass and a small half-circle of turf for gathering and playing. Next to the toddlers area is an ecological education area with a compost, fireplace, plants, flowers, and woodpiles. For the more adventurous playground-goers, we made an obstacle course out of wooden logs and rope. Furthermore, we constructed a pirate ship of a considerable size, a wooden palace, and a relaxation area within a big circular turf-structure that can be used for reading stories, doing yoga or simply as a hide-away.
During the playground construction, curious children came to peer at our progress through the fence. Many asked us questions about what the playground would look like and if we were really building them a Viking ship. After every day of work, the vision of the playground grew clearer. It was a fantastic process to watch and take part in. On opening day we gave the playground a last polish and then the first children were allowed to explore their new territory. Witnessing extremely happy, excited children climbing on the obstacle course, the ship, and the palace that we had just build for them made us very happy in return. These moments paid back for everything that we had invested.
Find your workcamp
Icelandic Experience
SEEDS main supporters