SEEDS 20. Skriðdalur: In the East of Iceland
07.06.2010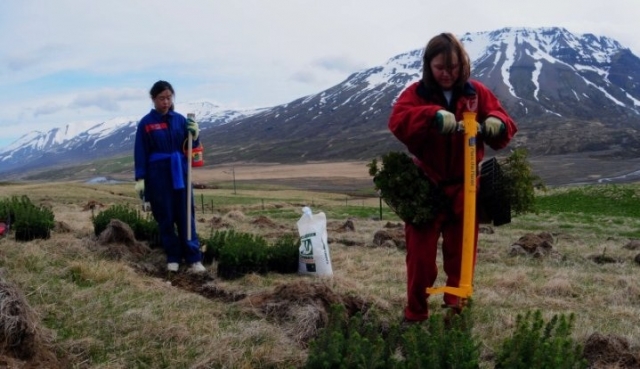 SEEDS volunteers from 5 different countries (South Korea, Russia, Israel, UK, Italy) planted trees and helped maintain a small farm in Skriðdalur, a picturesque, isolated area of east Iceland. Our main job was to plant and fertilize trees. By the end of our stay, we had planted just under 10,000 trees, including birch and pine trees. Also, we fed over 20 sheep, restored a cow barn and took down old barbed wire fences to prevent the farm's 7 horses from injuring themselves.
East Iceland is a region of dramatic beauty; blue, snow-covered mountains jut out of green hills that boarder the fjords. Springtime is a season of greatly varying weather. While in Skriðdalur, we experienced every weather condition imaginable: rain, wind, sun, fog and even snow! Temperatures ranged from -5 to 13.
During our free time we went night kayaking in a fjord, watched whales coming into the harbour, visited waterfalls and hiked up a near-by mountain. We took a boat ride on a fisherman's ship along with many Icelanders to a fjord with spectacular views.
One of our favourite experiences was attending the Seaman's Festival, a celebration of Icelandic sailors. During the festival, people competed on obstacle courses and teams of rowers raced in the fjord.
Our host was very welcoming and feed us a lot of Iceland food including fish, lamb, fish soup, chicken, reindeer, and homemade bread and jam. The most appetizing treat was a traditional Icelandic Christmas cake called jólakaka. We tried hákarl, traditional fermented shark, with brennivín to wash it down. Some of the volunteers liked the hákarl while others preferred the cake.
Find your workcamp
Icelandic Experience
SEEDS main supporters