SEEDS 26. Nature reserve of Þórsmörk * - The forest of Þór (3)
15.07.2009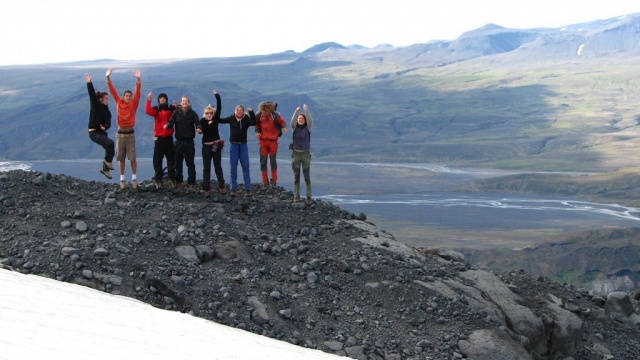 6 SEEDS volunteers arrived to Þórsmörk natural reserve which is one of the most beautiful places in Iceland.
Þórsmörk surrounded by natural boundaries like mountains, ice caps and Glacier Rivers & lagoons.
Þórsmörk offers a lot wonderful hiking opportunities, including the famous hiking trek to Landmannalaugar. Their task as volunteers was to help to run a campsite area at the beginning of this trek – in Þórsmörk Húsadalur. The campsite area belongs to Hostelling International, which is an NGO famous around the world. They had participated in all the campsite's tasks including cleaning, helping in the kitchen, lodging, help in the reception or just help to improve the surrounding area. For a few days they were asked to help the USTB volunteers to build the hiking paths around the campsite area, which they appreciated a lot.
Volunteers were living in a small hut and some of us pitched tents just next to the main reception.
Entertainment of the campsite was offering to them to use the sauna, 'hot' tub or free internet. Food was provided by the local hosts in the campsite restaurant and was served as a buffet where we could choose from different meals everyday.
Environmental activities were not so easy to coordinate as volunteers were working in different shifts and it was not always easy to meet all together at the same time, but one positive of those shifts was enough free time to enjoy several hiking opportunities around.
Camp leader had organised two one-day hiking trips to the glaciers, where they enjoyed the fantastic views, mountains and wildlife, in that area. The hiking treks were not so easy and we had to be well prepared for it as we had to cross the glacial rivers and hike up steep hills. One big bonus of the trips was an opportunity to see a real polar foxes, the only large native Icelandic animal.
Workcamp's local host was a famous Icelandic country singer and was really friendly to us. She owns the horses living just next to the campsite. They could enjoy their company by feeding them with old bread and stroking them. Local host knew all about the local wild produce, so volunteers learned how to make a herbal product using herbs just growing in the surrounding fields.
Þórsmörk is a wonderful, wild tourist destination in Iceland, that was the one of the reasons why SEEDS volunteers enjoyed their experience a lot.
Find your workcamp
Icelandic Experience
SEEDS main supporters