SEEDS 42. John Lennon Imagine Peace Tower in Viðey
29.09.2009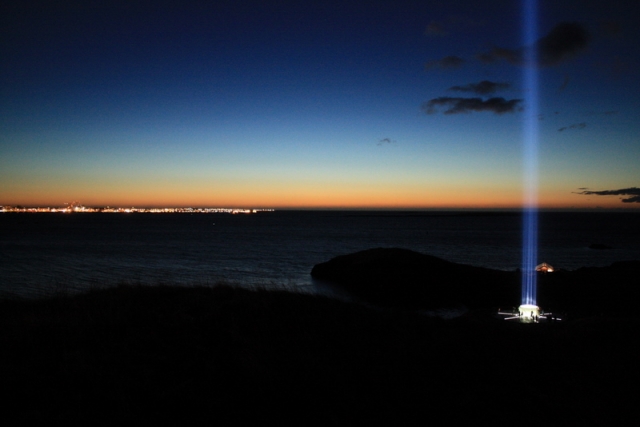 The workcamp in Viðey was the third organized on this island during summer.
Located in the bay of Reykjavik, five minutes by boat from the harbour, Viðey is of great interest for tourists who want to be close with the nature, and at the same time be near Reykjavik. On this Island we can find the famous Imagine Peace Tower, a work of art imagined by the artist Yoko Ono, in tribute to her husband John Lennon. Each year, in memory of John Lennon, the tower projects a beam of light for a few months (October to December).
Symbolizing peace, the tower is surrounded by writing on the ground with the phrase "Imagine the peace" written in 24 different languages. 12 volunteers, from Germany, Israel, France, Latvia, South Korea and USA, were involved in this workcamp. The main task was to maintain the hiking trails that had been damaged on the Island (cutting grass, flattening the ground…).
We also suggested that we paint and place markers along the pathways to mark them for the next touristic season. The first two days, we cleaned the coastline along the Island, in particular in the west part of Videy, where rubbish gathers along the beaches from the Reykjavik's harbour. Furthermore, we did conducted smaller tasks, such as fixing and painting some information signs that had been damaged, and repairing some bicycles that are used by tourists on the Island.
During free-time, many activities were planned. Some of the volunteers enjoyed the Golden Circle, and the leader and the messenger organized a hike in Esja Mountain. The Environmental Messenger also performed several environmental activities: screening movies, doing power-point presentations and games. We were lucky to get free entrance for many movies of the Reykjavik Film Festival in the capital, especially for one of the famous movies by Milos Forman, which had the presence of Milos Forman in person! We enjoyed also the Whale Watching adventure for free, organized by the same boat company which manages the ferry to Videy. We saw some dolphins and two small rorquals (a type of whale) during the sea travel!
The workcamp was a lot of fun and relaxing, even if we did not have a lot of tasks to do! We talked together a lot, and this helped considerably in understanding the different of culture between the volunteers.
Thank you for this workcamp!
Find your workcamp
Icelandic Experience
SEEDS main supporters