SEEDS 05. Þórshöfn & Langannes Peninsula - Happy Days Festivities!
20.07.2009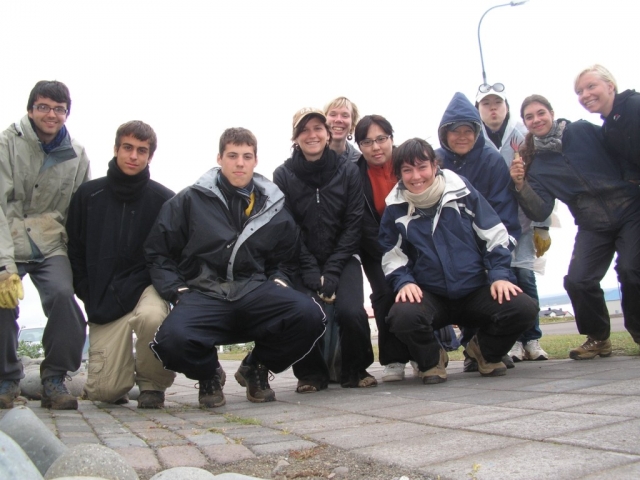 The Þórshöfn workcamp is a long and well established corporation of SEEDS with this small community close to the "end of the world" at the Langanes peninsula in Iceland's north-east.
Þórshöfn has been involved in reforestation tasks and coastline cleaning in the area. This time, the main task was in the village's "Central Park", where the volunteers worked to straighten the paths, to remove grasses from flowerbeds and plant a few trees. For some good views during the work, our hosts took us out to the beautiful Langanes peninsula, crowded with timber carried as far as from Siberia and with waste from the fishing industry. Approximately 157 bags of garbage were collected, filled with peculiar objects like single shoes, toothbrushes, toilet brushes and a little yellow rubber duck.
During our leisure time our host took good care of us and took us to some of the most amazing bird watching spots of the north, to the historic place of Ásbyrgi, a picturesque canyon which formed as the horse of the Nordic God Óðinn stepped onto Iceland with one of his eight hoofs. Also, we visited Europe's most powerful waterfall Dettifoss, and the North's most beautiful Hafragillfoss. At the end of the camp, the group was even able to enjoy codfish fillets that we caught ourselves on a trip to the fish-rich waters outside the Þórshöfn harbour!
The undisputed highlight of the workcamp, however, was the annual Kátir Dagar (Happy Days) festival, taking place every July, and putting the whole town affray. The group participated in putting up tents for a local market, helping the rescue team, judging about the most spectacular sand castle built by local kids, dancing, selling sandwiches and animating young kids and teenagers in the "disco", and even participate in the "Who is the strongest Viking?" contest. None of our participants won, but surely we will continue training for next year's contest!
Find your workcamp
Icelandic Experience
SEEDS main supporters