SEEDS 36. Reykjavík - SEEDS Photo Marathon 2009
17.08.2009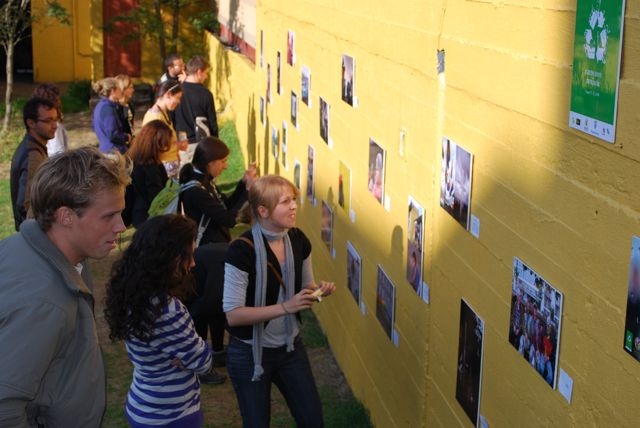 22 volunteers from Canada, Czech Republic, France, Germany, Israel, Italy, Japan, Poland, Slovenia, Spain and the UK, came to Reykjavik for the annual SEEDS Photo marathon. The volunteers were there to work around the city of Reykjavík whilst also receiving formal lessons in photography, presentations from local and international photographers and having time to put their photographic skills into practice and display their work.
As soon as they arrived, the workcampers showed their enthusiasm to take part in the project and everyone started to get to know each other very quickly. The days were divided into sections in which photography lessons were given and work was done around Reykjavík, mainly painting over graffiti and trying to make the center of the city a nicer place.
The lessons and discussions helped many of the group to think about their photography in a different way and to get the most out of their cameras. After photography sessions we had time to present pictures and to discuss the ideas and decisions behind them.
Over the two weeks, the photography lessons were supplemented by presentations from some local Icelandic photographers, and also a presentation from our Israeli workcamper who has worked as a photographer for over 20 years.
In the middle of the camp we had the opportunity to work as volunteers on the preparations for and during the Gay Pride parade and celebrations in Reykjavík.
The main task was to build the rainbow balloon snake which would be released at the end of the celebrations. The work was much harder than might have been expected but our volunteers did an incredible job and the snake looked really good at the end.
During the camp we went on a trip along the south coast of Iceland and the workcampers had a fantastic day, bringing home many beautiful pictures. Some of these pictures and those taken around Reykjavík formed the basis of our exhibition which took place in the 'Heart Garden' in Reykjavik city centre.
The exhibition remained there for two weeks and received much attention and many compliments from the public.
At the end of the camp we had a joint international evening with another workcamp, which we held in our very comfortable accommodation, sampling dishes and drinks from all over the world.
At the end it was very sad to leave the camp as it had been so successful and the group had formed very close bonds over the two weeks. But we were all very satisfied, having made new friends, learned a little bit about Iceland and photography, and had even had our work exhibited. We will all take home happy memories of the camp, it could not have been more perfect!
Find your workcamp
Icelandic Experience
SEEDS main supporters